Avoid Coverage Gaps When Driving Your
Clients' Vehicles
An informative blog post written by the country's leading provider of security guard company insurance-
The Mechanic Group
Does your private security agency have employees who drive your clients' vehicles? If so, it is possible both you and your client may not be properly covered. That is why it is important that you take note of this alert to avoid coverage gaps.
If your employee drives a vehicle owned or leased by your client, most likely your client will have purchased auto liability insurance for the vehicle. To ensure your client does have auto liability insurance on the vehicle, request to see a Certificate of Insurance.
If your employee acts in a negligent manner while operating the vehicle, your client's auto insurance policy will become the primary source of indemnification. It will only cover your client. A problem will arise if your client's auto insurance carrier subrogates (requests payment) against your private security agency. If this happens, your general liability policy will in most cases not cover your private security agency because most commercial general liability policies exclude ownership, maintenance, use or entrustment of any autos owned, operated, rented or loaned. In this particular instance, "loaned" is the operative term.
Before an unplanned event occurs that could place your private security agency in financial jeopardy, there are two ways you can protect your private security agency:
Make sure your private security agency's Commercial Auto Liability policy lists symbol 1 (Any Auto) under the liability sections of the policy. Maintain "Hired Car and Non-Owned Auto Liability" coverage, symbols 8 and 9.
It is important to note that a Commercial Auto policy with the above symbols will only be secondary coverage when your employees drive your client's vehicles. It only covers you, the named insured, and not your client. Again, your client should have primary auto insurance on the vehicle.
Please note, you will not be able to obtain auto insurance on a vehicle that is not owned or leased to your private security agency. If your client owns or leases a vehicle and requests that your private security agency acquire the auto insurance, your client would have to either sell or sublease the vehicle to your private security agency in order for you to obtain insurance. Companies buy hired and non-owned auto physical damage coverage which fills the gap associated with the above claim scenario.
Purchase Commercial Auto Insurance from The Mechanic Group
The Mechanic Group's program is underwritten by an A.M. Best "A" rated carrier. Liability coverage includes the United States, Puerto Rico and Canada.
Program details:
Commercial Auto Insurance is available only with Commercial Liability Insurance written by The Mechanic Group
"A" rated A.M. Best Rated Carrier
Liability limits as low as state minimums and as high as $1,000,000 CSL
Competitively priced, with no minimum premium
Available in all US states and territories, except Massachusetts and Puerto Rico
Admitted in all states
Our service platform combines a thorough understanding of the private security and insurance industries, creating a commitment to availability, quick response and attention to detail that is best-in-category.
The Mechanic Group specializes in delivering custom-built private security insurance programs to armed and unarmed security guard companies that include specialized broad form coverage endorsements at rates that protect our insureds' businesses and their bottom lines. Contact Cynthia Barcia at [email protected] or 800-214-0207, Ext. 140 for all your insurance needs.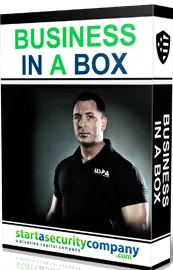 Security Business In A Box
Our Security Business In A Box has been our top seller for over a decade and is packed with value. It includes everything from our How-To ebooks to our professionally designed and written security templates. This is the ultimate do it yourself resource for starting your own successful security guard company.