How Can Agency Put Your Security Guard Firm
At Risk?
This is the final blog post about security services contracts written by the country's leading provider of security guard company insurance-
A few months ago we asked if you need a security contract with your clients. In our opinion, the answer in general is yes. We also advised in the event you are required to sign your client's standard form security contract, be on the lookout for the following phrases:
• Indemnity, Indemnification or Hold Harmless
• Additional Insured
• Waiver of Subrogation
• OCP – Owners Contractors Protective
• Term of Agreement
We have already examined all but this last one, Term of Agreement.
Agency Theory: Most contracts include a statement that you and your employees are an independent contractor, and that in performing those services you are not acting as an agent for your client. This language theoretically insulates your client from liability for your acts and omissions and those of your employees. It also protects you and your client from claims of joint employership that can result in both you and your client being responsible for claims brought by your employees (e.g., union issues, benefits, pension).
The problem of agency is generally unintentionally caused when the client takes control over your employees at its site. A director of security may begin assigning duties and tasks to your employees, which may cause injury (e.g., a guard hurts his back Friday morning when placing the security director's golf clubs in the trunk of his car.) The guard collects worker's compensation from your carrier and sues the client. Depending on the contract language you may have to defend and indemnify the client. You may also have to defend and/or indemnify for actions brought by third parties against your client resulting from a guard's action taken at your client's direction, (e.g., a patron sues for false imprisonment after the customer directs your employee to detain a suspected shoplifter.) This independent contractor issue is an example of good contract language being corrupted by poor practices.
This agency, or master servant – relationship also exists between you and your employees, including your guards. Under common law as a company you are liable for your own acts and omissions, negligent and intentional. As an employer you also are liable for the consequences of your employee's negligence. You may also be responsible for the intentional wrongdoing of your employees if that wrongdoing can somehow be related to your negligence in hiring, training or supervising the security guard.
Duties and Responsibilities: When there is an occurrence, the first thing one often does is look for a way to place blame. If a person on your client's property is assaulted, that person may sue your client for negligent security. The client may turn around and sue you claiming you were responsible for the security plan or your security officers failed to perform their duties. To defeat such claims, it is important to note that unless otherwise agreed upon in writing, your services do not include an analysis of security requirements. (Note: many guard companies offer a free "security survey" as part of a marketing strategy.) This can expose the company to serious liability if not expertly handled. Some examples include: three-year historical crime grid, analysis, and a lighting and obstruction evaluation. It is also critical to set forth posts and hours. And if you have agreed to prepare or provide post orders, make sure they exist, that they are at the post and that the guards assigned to the post read the orders.
Term of Contract: Many client contracts provide a term of one or more years and then give the client the unilateral and exclusive right to cancel at any time. This right must be mutual. Your interest in terminating a contract may be the result of unexpected costs, unforeseen risks, or your client not paying your bill. With this in place, you will be in a position to cut your losses, but remember: you should not simply walk off a job. Adequate notice (seven days) should be provided so that the client can find a replacement vendor and you can avoid lawsuits for losses incurred by terminating service without reasonable notice.
Conclusion: In every contract that requires indemnity, indemnification, hold harmless, OCP or waiver of subrogation, it is essential that it be clearly stated that the limitation applies "only to the extent covered by insurance proceeds". This paragraph in your contract will protect you and your company from potentially uninsured claims in which your client requests indemnification.
When your client transfers the risk to you, your next step is to transfer that risk to an insurance company by purchasing insurance protection. Rate and premiums charged by your insurance company depend upon your historical claims experience, type of clients, internal controls and type of contractual obligations. Failure to maintain positive claim experience and reasonable contracts can force insurance companies to charge higher rates to cover expected claims.
As a security provider, you provide your clients with the manpower to discourage or deter injury, damage or financial loss – but there is no way to guarantee that a loss won't occur. That is why it is essential that you protect your company – by carefully reviewing all client contracts.
The Mechanic Group specializes in delivering custom-built private security insurance programs to armed and unarmed security guard companies. Contact Cynthia Barcia at [email protected] or 800-214-0207, Ext. 140 for all your insurance needs.

Legal Language for binding a contract
Services to Client
Service Restrictions
Service Protective Language
Payment & Invoicing Terms
Invoicing & Late Charges
Service Retainer Language
Changes
Standard of Care
Insolvency & Adequate Assurances
and much more…
Click here for more information on our Security Services Contract Template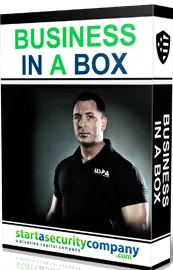 Security Business In A Box
Our Security Business In A Box has been our top seller for over a decade and is packed with value. It includes everything from our How-To ebooks to our professionally designed and written security templates. This is the ultimate do it yourself resource for starting your own successful security guard company.