Watch Out for These Critical Phrases in your
Client's Security Service Contract!
An informative new blog post written by the country's leading provider of security guard company insurance- The Mechanic Group
Last month we advised that if you are required to sign your client's standard form security contract that you be on the lookout for the following phrases:
Indemnity, Indemnification or Hold Harmless
Additional Insured
Waiver of Subrogation
OCP – Owners Contractors Protective
Term of Agreement
This month we are going to begin by examining Indemnity, Indemnification and Hold Harmless. We will cover the other phrases during the coming months.
Indemnity, Indemnification or Hold Harmless:
An indemnification clause, also known as a "hold harmless" is an agreement whereby one party (the "Indemnitor") agrees to protect and indemnify the other party (the "Indemnitee") from certain damages, such as loss of property, injury to persons, including third person that arise from negligence, carelessness or intentional acts or omissions by certain people or entities (e.g. guards, guard company or customer).
If at all possible, remove any reference to an indemnity in favor of your client from the contract. Without an indemnity provision, common law provides that a party is responsible for its negligence. If you agree to indemnify your client you are agreeing to defend and reimburse your client for certain occurrences at their location.
When a client absolutely demands an indemnification clause in his contract with you, we have determined three levels of indemnifications:
Limited: You agree to indemnify and hold harmless your client in the event a claim, demand, or suit is brought against him as a result of your direct negligent acts while performing agreed upon duties. From your perspective, this would be the most preferable indemnification clause, because you assume responsibility for only "DIRECT" acts of your employees. You would not be responsible for the active or passive negligent acts of your client; nor would you be responsible to individuals other than your client. An additional provision would be to limit the indemnity to the "insurance proceeds" only.
Intermediate: You agree to indemnify and hold harmless your client if a claim, demand or suit is brought against them for an occurrence caused in whole or in part by your negligence, including the contributory negligence of your client. This addition to the contract adds significant liability to you. As a result you could be responsible for acts that your employees had no direct involvement in. Your client might be equally liable, but because of this provision you are legally required to indemnify your client.
Broad: You agree to indemnify and hold harmless your client for all liability arising out of an occurrence, even if caused by intentional acts of your employees or if your client is solely responsible. By signing a broad form hold harmless agreement you are exposing your company to enormous risk. In most instances, insurance policies include contractual liability. However, most insurance policies do not agree to indemnify your client for their gross or sole negligent acts. Moreover, under common law your liability covers the company's negligence and the negligence of your employees. By accepting any greater liability, your client is receiving a significant benefit for which you should be paid.
The Bottom Line: You must first make sure your insurance policy extends coverage to any indemnification clause you agree to in a client contract. If the indemnification or hold harmless provision is broader than the language in your insurance policy, be aware that you are self- insured in the event of a claim. This is absolutely critical to understand.
Also make sure any client indemnification clause does not extend to uninsured occurrences – such as pollution, asbestos, theft, mold and even terrorism in some cases.
At the end of the day, it is always best to utilize your own Security Services Contract, one that has been reviewed by an attorney and limits your company liability as much as possible. When signing your client's contract is the only option available, be sure to fully understand its content and have it reviewed by your legal team.
The Mechanic Group specializes in delivering custom-built private security insurance programs to armed and unarmed security guard companies. Contact Cynthia Barcia at [email protected] or 800-214-0207, Ext. 140 for all your insurance needs.

Legal Language for binding a contract
Services to Client
Service Restrictions
Service Protective Language
Payment & Invoicing Terms
Invoicing & Late Charges
Service Retainer Language
Changes
Standard of Care
Insolvency & Adequate Assurances
and much more…
Click here for more information on our Security Services Contract Template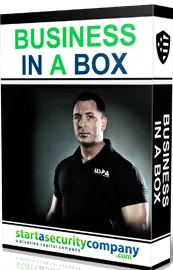 Security Business In A Box
Our Security Business In A Box has been our top seller for over a decade and is packed with value. It includes everything from our How-To ebooks to our professionally designed and written security templates. This is the ultimate do it yourself resource for starting your own successful security guard company.