Why "Additional Insured" is a Key Phrase
in Your Client's Security Services Contract
This is the third of five blog posts about security services contracts written by the country's leading provider of security guard company insurance-
Two months ago we asked if you need a security contract with your clients. In our opinion, the answer in general is YES. We also advised that in the event you are required to sign your client's standard form security contract, that you be on the lookout for the following key phrases:
• Indemnity, Indemnification or Hold Harmless
• Additional Insured
• Waiver of Subrogation
• OCP – Owners Contractors Protective
• Term of Agreement
Last month we examined Indemnity, Indemnification and Hold Harmless. This month we will cover Additional Insured. We will cover the remaining phrases during the next few months.
When considering a security contract ask yourself "How can I reasonably expect my employees to perform? What can I reasonably be expected to do in the event of an occurrence at my client location?" If you are concerned about your liability, you can bet your insurance company is going to have a concern as well.
Additional Insured: In most cases, additional insured status goes hand in hand with the indemnity agreement. There are several reasons why. The most significant reason is because of the immediate impact it has on your insurance policy.
Your client may seek additional insured status under your liability insurance policy in order to protect himself- in the event the hold harmless agreement proves to be unenforceable. For example, some states have statutory restrictions on the permissible scope of indemnification or the circumstances of a particular loss, which may conflict with, and thus void, the terms of the hold harmless agreement. When unable to obtain indemnification under the hold harmless agreement, your client can look for coverage directly under your insurance policy if he has additional insured status.
Your client may also feel he requires additional insured status for the following reasons:
• To protect his own policy limits or self-insured retention
• To guarantee a defense provided by indemnitor
• To back up a potentially unenforceable hold harmless agreement
• To obtain coverage not available under his own insurance program
• To avoid subrogation
The Bottom Line: Additional insured status requires that you and your insurance company both indemnify and defend occurrences tendered (given) to you by your client. It is essential that you limit additional insured status in the same way that you limit indemnification language. In every circumstance possible, follow the limited, intermediate and broad strategies discussed in our last post.
You must then make sure your insurance policy extends coverage to any additional insured clause you agree to in a client contract. If the additional insured status provision is broader in its language than your insurance policy, you must be aware that you are self insured in the event of a claim.
Also make sure any additional insured status provision in favor of your client does not extend to uninsured occurrences, such as pollution, hazardous or nuclear waste or release, asbestos, theft, mold and even terrorism in some cases.
At the end of the day, it is always best to utilize your own Security Services Contract, one that has been reviewed by an attorney and limits your company liability as much as possible. When signing your client's contract is the only option available, be sure to fully understand its content and have it reviewed by your legal team.
The Mechanic Group specializes in delivering custom-built private security insurance programs to armed and unarmed security guard companies. Contact Lynn Linderman at [email protected] or call 800-214-0207 for all your insurance needs.

Legal Language for binding a contract
Services to Client
Service Restrictions
Service Protective Language
Payment & Invoicing Terms
Invoicing & Late Charges
Service Retainer Language
Changes
Standard of Care
Insolvency & Adequate Assurances
and much more…
Click here for more information on our Security Services Contract Template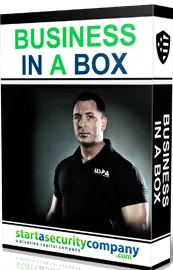 Security Business In A Box
Our Security Business In A Box has been our top seller for over a decade and is packed with value. It includes everything from our How-To ebooks to our professionally designed and written security templates. This is the ultimate do it yourself resource for starting your own successful security guard company.