An informative new blog post written by the country's leading provider of security guard company insurance- 
The Mechanic Group
You work hard to land new client contracts every day. When you are forced to return a client contract because your insurance company or risk management department would not agree to the insurance and indemnification language, do you feel like you just lost a big sale? Actually you might have saved your company from a devastating lawsuit that is not covered by insurance.
Let's first examine the age-old question: Is it better for me NOT to have a written contract with my client? The answer is GENERALLY NO. Written contracts are recommended because:
Agreed duties are clearly stated
Supervision and control of security officers is stated (agency theory discussed later)
Nature and number of security officers is stated
Contractual obligations are understood by all parties
Each point made above provides affirmative defenses in the event of a claim against your company. As a security provider it is very easy to be brought into just about every kind of litigation that occurs at a client location. It is the contract or service agreement and your execution of the agreement that allows for early dismissal of liability.
However, when a client's written contract contains onerous terms (e.g., overly broad indemnification insurance requirements, liquidated damage provision), you may be better served by not signing the client's form and by addressing issues such as duties, posts, and number of guards. Before making these decisions consult your legal adviser.
With a clear understanding of why written contracts are important, let's examine what can happen to increase or decrease your liability.
Historical risk management tells us that noninsurance risk transfer has long been important to effective risk control. If your client selects risk transfer, a decision is made whether to transfer the risk to its insurance company or to a third party contractor – YOU. It is at that point that you decide how much you wish to put your company in HARMS WAY.
Your client has hired you to protect themselves from certain risks – bodily injury, property damage and financial loss (also called "occurrences"). If you fail to prevent an "occurrence" you may be liable for the loss on your client's property even when the occurrence is caused in part by the acts of your client. It all depends on the wording of your contract with them. Remember, once you sign an indemnity, that provision may determine responsibility for losses for years to come.
In the event you are required to sign your client's standard form contract, be on the lookout for the following phrases:
Indemnity, Indemnification or Hold Harmless
Additional Insured
Waiver of Subrogation
OCP – Owners Contractors Protective
Term of agreement
In future blog posts we will define these terms.
At the end of the day, it is always best to utilize your own Security Services Contract, one that has been reviewed by an attorney and limits your company liability as much as possible. When signing your client's contract is the only option available, be sure to fully understand its content and have it reviewed by your legal team.
The Mechanic Group specializes in delivering custom-built private security insurance programs to armed and unarmed security guard companies. Contact Cynthia Barcia at [email protected] or 800-214-0207, Ext. 140 for all your insurance needs.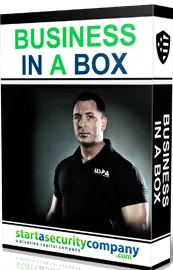 Security Business In A Box
Our Security Business In A Box has been our top seller for over a decade and is packed with value. It includes everything from our How-To ebooks to our professionally designed and written security templates. This is the ultimate do it yourself resource for starting your own successful security guard company.